It's the Sarah Cracknell Interviews page!
---
INTERVIEW TAKEN FROM ELLE magazine FEBRUARY 1998



Girl's World.
Shoot-outs, singledom and squaddies. Saint Etienne's singer Sarah Cracknell tells Danny Scott all about her life and times.

Your new album will surprise a lot of people
I hope so. We've always used computers and tapes in the past, but we've got a live band for this one. It's got a lot of soul. Quite upbeat, jazzy and funky. We're tired of people calling us "kitsch" and "twee".

Maybe you should stop wearing the gold lame hot pants, then.
God, I haven't worn those for a long time. My old flat used to be decorated with all the gold lame stuff and my fluffy slippers, but I've just got rid of it all. My new flat looks like....a normal flat. Actually, it got attacked the other day.

Brave Sarah in shoot-out drama?
Well, I wasn't that brave. It was just some kids throwing eggs at the window. I've just split up from my boyfriend and am living on my own for the first time in seven years. It's a bit weird. I'll tell you what else is weird too - all these old male friends crawling out of the woodwork. "Sarah, do you fancy a drink?"

Do you get blokes bothering you on tour as well?
No, the blokes are usually OK. I've had more hassle from female journalists, actually. I don't mind if they have a go at my singing but it shouldn't get personal.

You've taken a lot of stick for your singing, haven't you?
I'm a crap singer, I know that. I'm never going to be Whitney Houston or Aretha Franklin, but that's not what it's all about. It's about being able to put a song across with feeling and I think I do that very well.

Did you always want to be a singer?
Look, I grew up in Windsor and there's not much to do in Windsor except go to pubs and join bands.

Isn't Windsor really posh?
Everyone thinks it is, but it can get quite nasty. The army barracks are where the soldiers go just before they're sent to Northern Ireland. I was punched in the face by squaddies once just for standing at a taxi rank!



---



Taken from "Looks" magazine, Feb 1998.





At Home with.......Sarah Cracknell!



"The only word to describe my style is eclectic", says Sarah Cracknell, as she shows me round her flat. "I'm a real magpie when it comes to buying stuff for my home. If it's cute or sparkly, I have to have it!" For proof of this, you have only to look at her shelves, which contain plenty of said sweet and shiny things. For someone who isn't in nursery school, or doesn't have children, Sarah has a rather extensive toy collection. "I'm like a kid with toys," she says. "I waste so much money on them!" Sarah, lead singer of St Etienne, has characters from Toy Story, namely the three-headed alien and the surgically enhanced doll's head on a wind-up spider's body which she 'just had to buy' when she spotted it in a Japanese airport.
There's also a rather ugly-but-in-a-cute-kind-of-way frog who sticks his tongue out when you squeeze him, which she bought while on holiday in Barbados. One of the latest additions to the collection is a cuddly dog which was recently, er, liberated from a Swedish TV channel. "It was their mascot and I kept saying how much I liked it, hoping they'd take the hint and give it to me, but they didn't- so I walked out with it!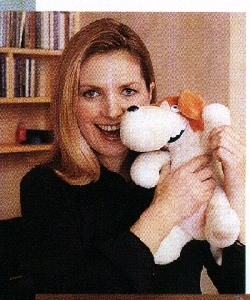 It was pristine when it left the studio, but I took it straight to Lollipop (Swedish pop festival) where it got trashed! Everyone was running around with it and dropping it in puddles, so it's not looking too great now."
Cats are also close to Sarah's heart, even though she doesn't have one. "I was going to get one to keep me company after my old one died of a heart attack, but I didn't think it would be fair because I'm away so much. But there's a catflap in the patio doors and my neighbour's cat comes in all the time. It's the perfect pet- it's cute but I don't have to feed it or worry about it when I'm not here!"
There are plenty of feline things on display too - a picture of her first cat, Sebastian, a cardboard cat which her old pet thought was real, a "Hello Kitty" string dispenser and a carved egyptian cat.
It's quite hard to believe that this west London flat belongs to Sarah. For someone who claims to be a world-class hoarder, it's remarkably bare and uncluttered.
"Oh, don't be fooled!" she laughs. "It's only because I just moved in here a few months ago. I lived in my last flat for nine years so I had to chuck out loads of stuff before I moved here. It was heartbreaking, but I had to be ruthless."
"The hardest thing to get rid of are my second-hand clothes- I've still got binbags full of them in the shed. I can't bear to part with them completely! I need to go through them, but every time I do that, I end up hanging on to more stuff!"
The lack of clutter is also because there's loads of stuff to be unpacked. Since moving to the rather swanky W10, Sarah hasn't spent much time here. She's been recording the new St Etienne album in Malmao in Sweden, and will soon be jetting off to Cuba to make the video for the first single, "Sylvie". Alright for some!
I was really lucky to find this flat. It was only the third place I saw, but I instantly knew it was perfect for me. I was originally going to buy a place with my mate Johnny (from Republica) and his girlfriend, but we decided we'd just be a bad influence on each other. It's fortunate that I've not had to do much to it because I haven't had the time!"
The only Cracknell touches are the shelves for CD'sin the lounge and some domestic appliances- an oven by Italian company Smeg (a name which makes her giggle), a huge 50's style fridge and a whistling kettle.
There are still quite a few things Sarah wants to do when she gets the time. The main thing concerns her Michelin Man light, a birthday present from bandmates Bob and Pete.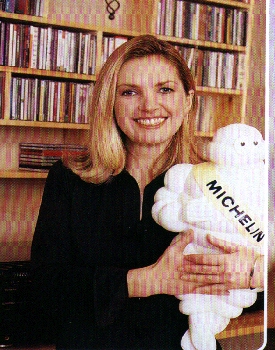 "I need to get a bulb to put up it's bum before I can put it up on the wall. I also want to get a bigger table for the kitchen so I can have more friends around- I might even attempt cooking!"
"I like the purple passageway, but as it makes the place quite dark, I might paint it. I want to clear out the back room as well and put some of my music stuff in there. Other than that, I'm really happy with the place. My friends say that it suits me, even though I've hardly done anything to it."
The plastered walls are completely bare, but Sarah is keen to change that. Sadly, her collection of original French James Bond posters for The Man with the Golden Gun, Diamonds are Forever and Live and Let Die picked up in Japan didn't fit in with her new flat, so she's given them to her mum. In return, her mum has given her a few bits, including some original 60's shoes. "I like the idea of shoes as ornaments. The fluffy ones do fit but they're uncomfortable so I never wear them except in here after I've had a couple of glasses of wine!" There's also a set of original Babycham glasses that Mrs C bought for her daughter.
Toys, shoes, glasses, cats - well, she did say her style was eclectic!



---




Taken from "Minx" magazine, August 1997.





The Champ


Our new best friend, Sarah Cracknell talks glamour, glitter and nasty male journos.

You're perceived as being terribly glamorous, Sarah. We suspect you probably even brush your teeth in a glamorous way.
(Laughs) I have got a glittery toothbrush. It's see-through, but with glitter inside it, like a snowstorm. It probably doesn't do my teeth any good, but who cares? Actually, I'm glitter-mad. I'm terrible- I'll go into a shop and of anything shines, I'll immediately home in on it. I've just bought this roll-on glitter - it smells like bubblegum and it's fantastic! It's penis-shaped as well......

A bit of a result then. You'll have to wear it to the album launch party. There will be a party, won't there?
I doubt it. Blame the record company. We've just fallen out.

Hypothetically, then. Who would you invite?
Leonardo DiCaprio.....and....we'll leave it there. Just me and Leonardo.

I think we can relate to that. Have you seen Romeo and Juliet yet?
No. Shall I tell you why? I'm building up to it. I'll need to be feeling very strong that day. I'm scared my feelings might run away with me.

Where do you stand on the Spice Girls/Girl Power?
I think they're great, because they're making it in a male-dominated industry and that allows young girls to look up to them and think they can do it too. I don't look into it much further than that. Speaking of girl power, I find it strange that - journalistically - it's normally women who have a problem with me. I don't understand it, because I'm so pro-women. I would champion me if I was them, regardless of whether or not I even liked the bloody record, purely because I'm doing something on my own in this industry.

So what's the most hurtful thing that's been written about you?
It was by a man. Everett True in the Melody Maker suggested that I'm so wimpy that I should be "slapped upside the head". Now I don't mind what he says about my record, but to suggest in the press that I should be physically assaulted is out of order.

Wasn't there some comeback over that?
Well, I wrote a letter, which they printed, saying, "Come and have a go if you think you're hard enough."

Presumably he didn't.
No, but I saw him a couple of days later, when I was with two really big blokes, and they were like, "Go on Sarah, 'ave 'im," and he was just sitting there looking really scared.

Well, that's karma for you.
Too right!



---



Never Mind the Spice Girls!




Taken from J17 October 1997



Sarah first flexed her girl-power muscles as lead singer with Saint Etienne (who had a huge hit with "He's on the Phone"). This year she released a solo album of her own brand of girly pop and is now working with Saint Etienne again. Hurrah!

Is there much sexism in the music business?
Yes. I get it all the time 'cause I'm blonde and fluffy and all the top bananas at record companies are blokes. One guy actually patted me on the head and said, "Run along now, Trouble."

Would you ever go out with someone in a band?
I don't think so. I've met hundreds of blokes in the music biz and the only one I'd consider is Tim Burgess from the Charlatans. He's a lovely bloke but he's already got a girlfriend.

What do you think of your male fans?
A lot of them are quite intimidated by me and just stand in the corner, giggling. Some say awful things, though. It's like they don't know what to say, so they're nasty to you.

Spice Girls: feminist heroes or silly slappers?
The bottom line is that they're a bunch of girls who've had huge success in a male-dominated industry. And that's got to be good news.

Describe yourself in three words.
Small, blonde, hedonist.

Could you have Liam in a fight?
I dunno - he's a bit of a loose cannon. The last time I was in a fight was when I was 14. I put a wastepaper bin on a girl's head.



---



Sarah Cracknell On the Couch.





Taken from NME 4 April 1998



What song describes you best?
"Sarah" by Thin Lizzy.

What is Heaven?
Being on a beach with a good sunset, my closest friends, a dustbin full of champers and a stereo.

What is Hell?
That horrible doomy feeling you get after a bonkers weekend when you wake up on Monday and try to piece together what you said and did. And realise it's all on film.

What's your earliest memory?
My Mum's friend's son Toby and his friend Ben naked in my paddling pool. I stomped into the house and yelled, "Mummy! There're naked boys in my pool! I hope they're not doing a wee!"

What's your greatest fear?
I have nightmares where I go on stage without any knickers on and decide to do cartwheels across the stage.

Who is your all time hero?
Debbie Harry, because she was blonde and glamorous. And she was always part of the band, not just some dolly.

What's the most trouble you've ever been in?
I went to a strict convent school and I skived off one day to go to the cinema with my then boyfriend. A teacher saw us and I got expelled.

Who was the first love of your life?
A boy in my primary school called Simon Harris. We used to kiss on the back of the bus. I made him a Valentine's card and he ripped it up in front of the whole class. I was devastated. But he turned into a really sad bloke. I saw him at the cinema years later and he was wearing an enormous green enamel cross around his neck.

What's your greatest talent?
Going without sleep.

Upon whom would you like to exact revenge, how and why?
The intimidating hairdresser who dyed my hair blue when I was 13. I'd like to dye his hair the same colour, permanently.

What's your most treasured possession?
My new fridge.

What have you most regretted doing while drunk?
Slagging off Mark Lamarr.

What's the best piece of advice you've ever received?
A very close friend of mine said to me, "Don't ever try heroin, because I know you Sarah, and you'd like it too much."

Can you read music?
No.

If you were invisible for a day, what would you do?
I'd pop into Bob and Pete's bathrooms in the morning and study their ablutions.

What are your final three wishes?
A Top Ten single. To have enough time and money to go all the places I want to go. And I wish that my Dad was still alive to see me being successful.


---



Photo Me!





Taken from J-17 magazine, May 1998.



St Etienne's fab new single, "The Bad Photographer", is out this month, so what more excuse do we need to chat about cameras to Et singer and top gal Sarah Cracknell....

So what's the story behind "The Bad Photographer"?
It's a seedy story about a photographer trying to take advantage of someone.

What are the worst photos of you in existence?
There are some funny ones of me when I was a baby. My Mum had slimmed right down, but I'm the biggest child, with this ginormous head. I look like a freak baby.

If you could snap any celeb, who would it be?
Matt Dillon, or Leo DiCaprio. I'd be saying, "I think this might work better if you were naked!"

What's the worst thing about having your picture taken all the time?
It never seems to get any easier. It always feels awkward.

And the best thing?
My make-up artist, Fay, blags me make-up. She's upgrading me from my usual Rimmel to the posh stuff like Stila, Mac and Urban Decay.

Would you ever do a nude shoot?
Get my bits out? Certainly not!


---



ALL SAINTS





Taken from "Boyz" magazine 4/4/98





(Courtesy of Peter Johnson, Avenue)



Talk us through the new single 'Bad photographer'?
We recorded it totally live in the studio in Malmo, Sweden and it's based on a true story that I can't divulge.
You can...
No, I can't ( laughs). I mean no one's going to want to know that that song is about them.
Will the person in question guess?
Probably not. It's a seedy photographer scenario and by the way, it's not Mark (Boyz photographer). It was situation with someone we know who ended up waking up next to a photographer and thinking 'Why did I do that?'
Have you ever been hit on by a photographer?
Only once.
Was it the same photographer?
No, It was a bit wierd actually, you don't want a photographer being into you - it makes you feel a bit vulnerable
You'd get great shots out of it.
But I didn't (laughs)
So who was the last guy you did?
(silence) it's too long ago to remember. Honestly. It is. I split up with my boyfriend last year, and since then there hasn;t been anybody.
Come on
I'm avoiding boys because I get distracted. I fall in love really, really easily and it becomes all-consuming. And this album is too important for me to get sidetracked
So you're a girly girl?
I'm not girly, but I'm very romantic. It's an all or nothing thing.
Whats the crassest thing youve done for love?
Surfing. Snowboarding. I went to see Brentford play a couple of times (laughs)
We should be talking about the music. Would you care if Bad Photographer wasn't a hit?
Yeah I think we would. We feel quite strongly about the new album, Good Humor. I know bands always like the album they've done most recently but we really do feel more strongly about this one. This stands a chance of doing something. We've been trolling along always having top 40 of some description for years.
Does if feel strange making pop music the older you get?
I think you should stop doing it when you're not doing anything interesting anymore. When you run out of ideas. Elton John should have stopped years ago. If we felt like we had nowhere to go. If we didn't come up with something new and exciting, we'd stop.



---



What I Learned




Taken from Just 17 yearbook 1995.



What I was: I was a real tomboy when I was younger - I wore jeans and trainers until I was 11. I was really competitive with boys - I was always trying to do better than them. My parents didn't mind me dressing like a boy. In fact, they preferred it to my fashion victim stage - my Dad would always walk on the other side of the road from me.

What I achieved: I think my best achievements are yet to come, when I record a solo album, but being with Saint Etienne has been brilliant. We've released three albums and five singles. I think the best time ever was when we first appeared on Top of the Pops. East 17 were on the show too which left me completely star struck.

What I learned: I think it's pretty tough for girls to get ahead, especially in the music business. It's important not to get side-tracked from doing what you really want to do cause eventually you get to the top and you're in charge. People think I'm just a pretty puppet in Saint Etienne - you know, with no creative input - but they're completely wrong.


---



Woman we Admire
St Etienne's Sarah Cracknell.
Taken from Cosmopolitan UK June 1998 issue.



Super-cool pop icon Sarah Cracknell returns to the charts with a new St Etienne album "Good Humor", and opinions to match. She talks exclusively to Cosmo...

....on men: "I've had it with men - dating, flirting, the whole lot!" says Sarah. "Being single feels right. I like nothing better than going home to my flat (in London's Shepherd's Bush) and enjoying the peace and solitude. It doesn't feel empty without a man, and neither do I."

...on image: "Right now I'm into sports - snow boarding, surfing, anything outdoors that leaves you too tired to think. People are always really surprised at this because my image is more the sophisticated glamour-puss."

...on claims to fame: "I had a tiny part in Grange Hill years ago. It was a "yes miss", "no miss" part - my character didn't even have a name."

...on school: She was expelled from her Windsor Convent school at 14 for bunking off to kiss a boy in the back of a Staines cinema. "We were spotted by one of his teachers, who rang his mother. She said, "I bet he's with that Cracknell girl" and rang my school - the traitorous cow!"

...on being in a band: This is the best job you can have. What other job pays you to dress up, sing, travel and work when you like? Life couldn't be sweeter."


---



St Etienne London Kentish Town Forum
Review from NME, 6/1/99 (Gig; 17/12/98)




(Courtesy of Rob Orchard, Avenue)



The Saint come marching in. They play 'Nothing Can Stop Us' and it's funky, it's got flutes and it's a totally awesome pop song. There's nothing even remotely ironic about it. The evil I word continues to haunt St Etienne. Their enemies in the realm of serious rock would have it that they are little more than a Farfisa-fixated, Pet Shop Boys pastiche in posh clubwear. A nasty, soulless, perfect pop machine so two-dimensional they could be on the set of Eastenders. Inevitably, that's absolute rubbish. Tonight is not an excercise in smarmy self-indulgence, but a celebration of the purest of pop ideals. If you can't see the wide-eyed love that goes into producing the lush 'Avenue' or the sprightly 'Split Screen' then truly you have a black box recorder where your heart should be. Certainly this is manufactured music and St Etiennes songs are so steeped in musical history that there are occasions - like the join-the-dots Abba-isms of 'I Was Born On Christmas Day' - when they can seem to be trying too hard. Even then, though, their masterful command of melody just about sees them through. Indeed, as they reach critical mass shortly after Sarah Cracknell starts dancing in time, you can forgive all their transgressions. 'Sylvie' and the stunning 'He's on the Phone' are a stellar amalgamation of handbag house and Bacharachian pop aesthetics. They play the Teutonic 'Like a Motorway' and saunter off. Tonight, they have proved again that they are not tired cynics, but consummate showmen. They go marching on. Salute them as they pass.


---



Sarah's Santa's Little Helper Cocktail Recipe!
(Taken from Melody Maker, 26/12/98)



Ingredients: Champagne, Creme de Cassis, Bacardi, Bitter Lemon and half a squeezed lemon.

Named after the Simpson's hound, no doubt, but this is no dog's breakfast. We take one swig and we've found our brand. Ooh, that's lurvely...
(Judges Comments) "Wine gums!! Yes!! I'm addicted to that already. That tastes so good."
"Yess!! Wine Gums!! That's it!! Not only does it taste gorgeous, but you can feel it working alocoholically as well. Wonderful."
"This is the first drink I've been given this evening that I'm actually going to finish. It's got clouds in it. Little fluffy clouds. Like growing up in Arizona...." "That could never be a drying out drink. It's just too good. I think the contest is over. mmm, give me more now."
Like Torville and Dean spinning their way into the nation's heart, Santa's Little Helper gets perfect marks from all out judges, even the Germans. A perfect 10.


---



Did Saint Etienne invent Britpop? One band member wants none of it, says ANDREW PROBYN

(The following courtesy of Stuart Tylor, of Avenue)



LEGEND has it Saint Etienne invented Britpop - albeit inadvertently. The English group's glamorous blonde diva, Sarah Cracknell, is uncomfortable at the oft-repeated statement. To her it is an accusation. "I'm glad you said inadvertently, because no one would have wanted to have invented it on purpose," Cracknell says from her London home. "It makes me feel vaguely responsible and guilty, because Britpop's such a horrible term and such a wide genre of s.... music that I don't want to be part of it. "The only thing we did on that level is we started to get played on mainstream radio, like Radio One, before anyone else because we were a bit cross-over sounding in that we were alternative, yet poppy." Formed in 1990 by childhood friends Pete Wiggs and Bob Stanley, and named for the hippest French soccer team, Saint Etienne was part of the English-driven backlash against grunge. Neither Wiggs nor Stanley could play an instrument, but both were keen fans of indie pop in which guitars were sidelined for samplers and synthesisers. Stanley had fine-tuned his pop sensibilities as a music reporter for NME, Melody Maker and The Guardian and, along with Wiggs, had dreamed of being North London's answer to Burt Bacharach. Their first two singles were clever reworkings of lost classics - Gene Pitney's Only Love Can Break A Heart and the Field Mice's Kiss and Make Up. Wiggs and Stanley originally intended Saint Etienne to be a fluid outfit that would employ a variety of singers, much in the tradition of Massive Attack. But when Cracknell joined for the third single, the self-penned Nothing Can Stop Us (1991), they found a soul mate. She was the living embodiment to their cool, ambient and stylish groove. "Maybe they realised the logistics of using different vocalists was a nightmare, but we were so like-minded in reference points we clicked somehow," Cracknell says modestly. Eight years on, Saint Etienne has produced four albums, two compilations and a score of singles. The Wiggs and Stanley team has also produced for Shara Nelson, Van Dyke Parks, Edwyn Collins, the Boo Radleys, PJ Proby, Shampoo and Kylie Minogue, who faithfully covered Nothing Can Stop Us in 1994. "Over the years Saint Etienne has done more collaborating than the Vichy regime," the band's biography reads. It joined French pop star Etienne Daho for a mini-EP and conscripted the Charlatans' Tim Burgess for its single I was Born on Christmas Day. During the band's first full tour of Britain in 1994, Saint Etienne was supported by a fledgling band called Oasis. Noel Gallagher sent them a demo tape that included Live Forever and Oasis was signed up for the tour on the spot. "I remember seeing them and thinking something was going to happen for them," Cracknell says. "You know when a band has just something about them, charisma. Liam would look like such a pop star - he had presence on the stage and the songs were good. I did not realise just how ridiculous it would get for them." Saint Etienne's star has never shone as bright as its former support group, but its body of work is consistently enjoyable and constantly evolving - from retro pop and ambient new wave to more progressive work such as its 1994 album Tiger Bay. Its latest album, Good Humor, reached No.13 in the British charts while its two singles, Sylvie and The Bad Photographer, reached 12 and 25. The band's biggest hit has been 1995's He's on the Phone. Mario's Cafe, from its second album, was used in a British television ad for shampoo. Such are the strange fortunes of pop. The band's lack of British chart-busting is reflected in Australia, where it has had little commercial success. The band's three-date Australian tour begins in Sydney, and Cracknell says the tour is more of a fact-finding mission ahead of a more comprehensive tour, maybe sometime next year. "We would love to have come before, but nobody asked us," she says. Stanley will not be touring ("he doesn't enjoy gigs"), but Cracknell and Wiggs will be backed by a six-piece band. Saint Etienne will perform at the Hi Fi Bar on Sunday December 6, and Monday, December 7.


(C) 1998 Herald and Weekly Times Limited. SUNDAY HERALD SUN 29/11/1998 P81



---
More coming soon!!