It's the Sarah Cracknell Interviews page!
---
INTERVIEW TAKEN FROM ELLE magazine FEBRUARY 1998



Girl's World.
Shoot-outs, singledom and squaddies. Saint Etienne's singer Sarah Cracknell tells Danny Scott all about her life and times.

Your new album will surprise a lot of people
I hope so. We've always used computers and tapes in the past, but we've got a live band for this one. It's got a lot of soul. Quite upbeat, jazzy and funky. We're tired of people calling us "kitsch" and "twee".

Maybe you should stop wearing the gold lame hot pants, then.
God, I haven't worn those for a long time. My old flat used to be decorated with all the gold lame stuff and my fluffy slippers, but I've just got rid of it all. My new flat looks like....a normal flat. Actually, it got attacked the other day.

Brave Sarah in shoot-out drama?
Well, I wasn't that brave. It was just some kids throwing eggs at the window. I've just split up from my boyfriend and am living on my own for the first time in seven years. It's a bit weird. I'll tell you what else is weird too - all these old male friends crawling out of the woodwork. "Sarah, do you fancy a drink?"

Do you get blokes bothering you on tour as well?
No, the blokes are usually OK. I've had more hassle from female journalists, actually. I don't mind if they have a go at my singing but it shouldn't get personal.

You've taken a lot of stick for your singing, haven't you?
I'm a crap singer, I know that. I'm never going to be Whitney Houston or Aretha Franklin, but that's not what it's all about. It's about being able to put a song across with feeling and I think I do that very well.

Did you always want to be a singer?
Look, I grew up in Windsor and there's not much to do in Windsor except go to pubs and join bands.

Isn't Windsor really posh?
Everyone thinks it is, but it can get quite nasty. The army barracks are where the soldiers go just before they're sent to Northern Ireland. I was punched in the face by squaddies once just for standing at a taxi rank!



---



Taken from "Looks" magazine, Feb 1998.





At Home with.......Sarah Cracknell!



"The only word to describe my style is eclectic", says Sarah Cracknell, as she shows me round her flat. "I'm a real magpie when it comes to buying stuff for my home. If it's cute or sparkly, I have to have it!" For proof of this, you have only to look at her shelves, which contain plenty of said sweet and shiny things. For someone who isn't in nursery school, or doesn't have children, Sarah has a rather extensive toy collection. "I'm like a kid with toys," she says. "I waste so much money on them!" Sarah, lead singer of St Etienne, has characters from Toy Story, namely the three-headed alien and the surgically enhanced doll's head on a wind-up spider's body which she 'just had to buy' when she spotted it in a Japanese airport.
There's also a rather ugly-but-in-a-cute-kind-of-way frog who sticks his tongue out when you squeeze him, which she bought while on holiday in Barbados. One of the latest additions to the collection is a cuddly dog which was recently, er, liberated from a Swedish TV channel. "It was their mascot and I kept saying how much I liked it, hoping they'd take the hint and give it to me, but they didn't- so I walked out with it!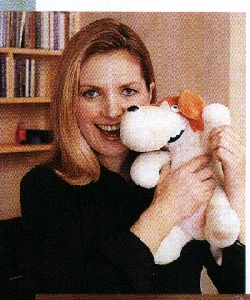 It was pristine when it left the studio, but I took it straight to Lollipop (Swedish pop festival) where it got trashed! Everyone was running around with it and dropping it in puddles, so it's not looking too great now."
Cats are also close to Sarah's heart, even though she doesn't have one. "I was going to get one to keep me company after my old one died of a heart attack, but I didn't think it would be fair because I'm away so much. But there's a catflap in the patio doors and my neighbour's cat comes in all the time. It's the perfect pet- it's cute but I don't have to feed it or worry about it when I'm not here!"
There are plenty of feline things on display too - a picture of her first cat, Sebastian, a cardboard cat which her old pet thought was real, a "Hello Kitty" string dispenser and a carved egyptian cat.
It's quite hard to believe that this west London flat belongs to Sarah. For someone who claims to be a world-class hoarder, it's remarkably bare and uncluttered.
"Oh, don't be fooled!" she laughs. "It's only because I just moved in here a few months ago. I lived in my last flat for nine years so I had to chuck out loads of stuff before I moved here. It was heartbreaking, but I had to be ruthless."
"The hardest thing to get rid of are my second-hand clothes- I've still got binbags full of them in the shed. I can't bear to part with them completely! I need to go through them, but every time I do that, I end up hanging on to more stuff!"
The lack of clutter is also because there's loads of stuff to be unpacked. Since moving to the rather swanky W10, Sarah hasn't spent much time here. She's been recording the new St Etienne album in Malmao in Sweden, and will soon be jetting off to Cuba to make the video for the first single, "Sylvie". Alright for some!
I was really lucky to find this flat. It was only the third place I saw, but I instantly knew it was perfect for me. I was originally going to buy a place with my mate Johnny (from Republica) and his girlfriend, but we decided we'd just be a bad influence on each other. It's fortunate that I've not had to do much to it because I haven't had the time!"
The only Cracknell touches are the shelves for CD'sin the lounge and some domestic appliances- an oven by Italian company Smeg (a name which makes her giggle), a huge 50's style fridge and a whistling kettle.
There are still quite a few things Sarah wants to do when she gets the time. The main thing concerns her Michelin Man light, a birthday present from bandmates Bob and Pete.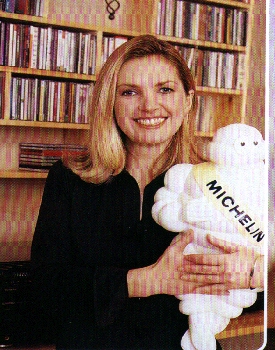 "I need to get a bulb to put up it's bum before I can put it up on the wall. I also want to get a bigger table for the kitchen so I can have more friends around- I might even attempt cooking!"
"I like the purple passageway, but as it makes the place quite dark, I might paint it. I want to clear out the back room as well and put some of my music stuff in there. Other than that, I'm really happy with the place. My friends say that it suits me, even though I've hardly done anything to it."
The plastered walls are completely bare, but Sarah is keen to change that. Sadly, her collection of original French James Bond posters for The Man with the Golden Gun, Diamonds are Forever and Live and Let Die picked up in Japan didn't fit in with her new flat, so she's given them to her mum. In return, her mum has given her a few bits, including some original 60's shoes. "I like the idea of shoes as ornaments. The fluffy ones do fit but they're uncomfortable so I never wear them except in here after I've had a couple of glasses of wine!" There's also a set of original Babycham glasses that Mrs C bought for her daughter.
Toys, shoes, glasses, cats - well, she did say her style was eclectic!



---




Taken from "Minx" magazine, August 1997.





The Champ


Our new best friend, Sarah Cracknell talks glamour, glitter and nasty male journos.

You're perceived as being terribly glamorous, Sarah. We suspect you probably even brush your teeth in a glamorous way.
(Laughs) I have got a glittery toothbrush. It's see-through, but with glitter inside it, like a snowstorm. It probably doesn't do my teeth any good, but who cares? Actually, I'm glitter-mad. I'm terrible- I'll go into a shop and of anything shines, I'll immediately home in on it. I've just bought this roll-on glitter - it smells like bubblegum and it's fantastic! It's penis-shaped as well......

A bit of a result then. You'll have to wear it to the album launch party. There will be a party, won't there?
I doubt it. Blame the record company. We've just fallen out.

Hypothetically, then. Who would you invite?
Leonardo DiCaprio.....and....we'll leave it there. Just me and Leonardo.

I think we can relate to that. Have you seen Romeo and Juliet yet?
No. Shall I tell you why? I'm building up to it. I'll need to be feeling very strong that day. I'm scared my feelings might run away with me.

Where do you stand on the Spice Girls/Girl Power?
I think they're great, because they're making it in a male-dominated industry and that allows young girls to look up to them and think they can do it too. I don't look into it much further than that. Speaking of girl power, I find it strange that - journalistically - it's normally women who have a problem with me. I don't understand it, because I'm so pro-women. I would champion me if I was them, regardless of whether or not I even liked the bloody record, purely because I'm doing something on my own in this industry.

So what's the most hurtful thing that's been written about you?
It was by a man. Everett True in the Melody Maker suggested that I'm so wimpy that I should be "slapped upside the head". Now I don't mind what he says about my record, but to suggest in the press that I should be physically assaulted is out of order.

Wasn't there some comeback over that?
Well, I wrote a letter, which they printed, saying, "Come and have a go if you think you're hard enough."

Presumably he didn't.
No, but I saw him a couple of days later, when I was with two really big blokes, and they were like, "Go on Sarah, 'ave 'im," and he was just sitting there looking really scared.

Well, that's karma for you.
Too right!



---



Never Mind the Spice Girls!




Taken from J17 October 1997



Sarah first flexed her girl-power muscles as lead singer with Saint Etienne (who had a huge hit with "He's on the Phone"). This year she released a solo album of her own brand of girly pop and is now working with Saint Etienne again. Hurrah!

Is there much sexism in the music business?
Yes. I get it all the time 'cause I'm blonde and fluffy and all the top bananas at record companies are blokes. One guy actually patted me on the head and said, "Run along now, Trouble."

Would you ever go out with someone in a band?
I don't think so. I've met hundreds of blokes in the music biz and the only one I'd consider is Tim Burgess from the Charlatans. He's a lovely bloke but he's already got a girlfriend.

What do you think of your male fans?
A lot of them are quite intimidated by me and just stand in the corner, giggling. Some say awful things, though. It's like they don't know what to say, so they're nasty to you.

Spice Girls: feminist heroes or silly slappers?
The bottom line is that they're a bunch of girls who've had huge success in a male-dominated industry. And that's got to be good news.

Describe yourself in three words.
Small, blonde, hedonist.

Could you have Liam in a fight?
I dunno - he's a bit of a loose cannon. The last time I was in a fight was when I was 14. I put a wastepaper bin on a girl's head.



---



Sarah Cracknell On the Couch.





Taken from NME 4 April 1998



What song describes you best?
"Sarah" by Thin Lizzy.

What is Heaven?
Being on a beach with a good sunset, my closest friends, a dustbin full of champers and a stereo.

What is Hell?
That horrible doomy feeling you get after a bonkers weekend when you wake up on Monday and try to piece together what you said and did. And realise it's all on film.

What's your earliest memory?
My Mum's friend's son Toby and his friend Ben naked in my paddling pool. I stomped into the house and yelled, "Mummy! There're naked boys in my pool! I hope they're not doing a wee!"

What's your greatest fear?
I have nightmares where I go on stage without any knickers on and decide to do cartwheels across the stage.

Who is your all time hero?
Debbie Harry, because she was blonde and glamorous. And she was always part of the band, not just some dolly.

What's the most trouble you've ever been in?
I went to a strict convent school and I skived off one day to go to the cinema with my then boyfriend. A teacher saw us and I got expelled.

Who was the first love of your life?
A boy in my primary school called Simon Harris. We used to kiss on the back of the bus. I made him a Valentine's card and he ripped it up in front of the whole class. I was devastated. But he turned into a really sad bloke. I saw him at the cinema years later and he was wearing an enormous green enamel cross around his neck.

What's your greatest talent?
Going without sleep.

Upon whom would you like to exact revenge, how and why?
The intimidating hairdresser who dyed my hair blue when I was 13. I'd like to dye his hair the same colour, permanently.

What's your most treasured possession?
My new fridge.

What have you most regretted doing while drunk?
Slagging off Mark Lamarr.

What's the best piece of advice you've ever received?
A very close friend of mine said to me, "Don't ever try heroin, because I know you Sarah, and you'd like it too much."

Can you read music?
No.

If you were invisible for a day, what would you do?
I'd pop into Bob and Pete's bathrooms in the morning and study their ablutions.

What are your final three wishes?
A Top Ten single. To have enough time and money to go all the places I want to go. And I wish that my Dad was still alive to see me being successful.


---



Photo Me!





Taken from J-17 magazine, May 1998.



St Etienne's fab new single, "The Bad Photographer", is out this month, so what more excuse do we need to chat about cameras to Et singer and top gal Sarah Cracknell....

So what's the story behind "The Bad Photographer"?
It's a seedy story about a photographer trying to take advantage of someone.

What are the worst photos of you in existence?
There are some funny ones of me when I was a baby. My Mum had slimmed right down, but I'm the biggest child, with this ginormous head. I look like a freak baby.

If you could snap any celeb, who would it be?
Matt Dillon, or Leo DiCaprio. I'd be saying, "I think this might work better if you were naked!"

What's the worst thing about having your picture taken all the time?
It never seems to get any easier. It always feels awkward.

And the best thing?
My make-up artist, Fay, blags me make-up. She's upgrading me from my usual Rimmel to the posh stuff like Stila, Mac and Urban Decay.

Would you ever do a nude shoot?
Get my bits out? Certainly not!


---



ALL SAINTS





Taken from "Boyz" magazine 4/4/98





(Courtesy of Peter Johnson, Avenue)



Talk us through the new single 'Bad photographer'?
We recorded it totally live in the studio in Malmo, Sweden and it's based on a true story that I can't divulge.
You can...
No, I can't ( laughs). I mean no one's going to want to know that that song is about them.
Will the person in question guess?
Probably not. It's a seedy photographer scenario and by the way, it's not Mark (Boyz photographer). It was situation with someone we know who ended up waking up next to a photographer and thinking 'Why did I do that?'
Have you ever been hit on by a photographer?
Only once.
Was it the same photographer?
No, It was a bit wierd actually, you don't want a photographer being into you - it makes you feel a bit vulnerable
You'd get great shots out of it.
But I didn't (laughs)
So who was the last guy you did?
(silence) it's too long ago to remember. Honestly. It is. I split up with my boyfriend last year, and since then there hasn;t been anybody.
Come on
I'm avoiding boys because I get distracted. I fall in love really, really easily and it becomes all-consuming. And this album is too important for me to get sidetracked
So you're a girly girl?
I'm not girly, but I'm very romantic. It's an all or nothing thing.
Whats the crassest thing youve done for love?
Surfing. Snowboarding. I went to see Brentford play a couple of times (laughs)
We should be talking about the music. Would you care if Bad Photographer wasn't a hit?
Yeah I think we would. We feel quite strongly about the new album, Good Humor. I know bands always like the album they've done most recently but we really do feel more strongly about this one. This stands a chance of doing something. We've been trolling along always having top 40 of some description for years.
Does if feel strange making pop music the older you get?
I think you should stop doing it when you're not doing anything interesting anymore. When you run out of ideas. Elton John should have stopped years ago. If we felt like we had nowhere to go. If we didn't come up with something new and exciting, we'd stop.



---



What I Learned




Taken from Just 17 yearbook 1995.



What I was: I was a real tomboy when I was younger - I wore jeans and trainers until I was 11. I was really competitive with boys - I was always trying to do better than them. My parents didn't mind me dressing like a boy. In fact, they preferred it to my fashion victim stage - my Dad would always walk on the other side of the road from me.

What I achieved: I think my best achievements are yet to come, when I record a solo album, but being with Saint Etienne has been brilliant. We've released three albums and five singles. I think the best time ever was when we first appeared on Top of the Pops. East 17 were on the show too which left me completely star struck.

What I learned: I think it's pretty tough for girls to get ahead, especially in the music business. It's important not to get side-tracked from doing what you really want to do cause eventually you get to the top and you're in charge. People think I'm just a pretty puppet in Saint Etienne - you know, with no creative input - but they're completely wrong.


---



Woman we Admire
St Etienne's Sarah Cracknell.
Taken from Cosmopolitan UK June 1998 issue.



Super-cool pop icon Sarah Cracknell returns to the charts with a new St Etienne album "Good Humor", and opinions to match. She talks exclusively to Cosmo...

....on men: "I've had it with men - dating, flirting, the whole lot!" says Sarah. "Being single feels right. I like nothing better than going home to my flat (in London's Shepherd's Bush) and enjoying the peace and solitude. It doesn't feel empty without a man, and neither do I."

...on image: "Right now I'm into sports - snow boarding, surfing, anything outdoors that leaves you too tired to think. People are always really surprised at this because my image is more the sophisticated glamour-puss."

...on claims to fame: "I had a tiny part in Grange Hill years ago. It was a "yes miss", "no miss" part - my character didn't even have a name."

...on school: She was expelled from her Windsor Convent school at 14 for bunking off to kiss a boy in the back of a Staines cinema. "We were spotted by one of his teachers, who rang his mother. She said, "I bet he's with that Cracknell girl" and rang my school - the traitorous cow!"

...on being in a band: This is the best job you can have. What other job pays you to dress up, sing, travel and work when you like? Life couldn't be sweeter."


---



St Etienne London Kentish Town Forum
Review from NME, 6/1/99 (Gig; 17/12/98)




(Courtesy of Rob Orchard, Avenue)



The Saint come marching in. They play 'Nothing Can Stop Us' and it's funky, it's got flutes and it's a totally awesome pop song. There's nothing even remotely ironic about it. The evil I word continues to haunt St Etienne. Their enemies in the realm of serious rock would have it that they are little more than a Farfisa-fixated, Pet Shop Boys pastiche in posh clubwear. A nasty, soulless, perfect pop machine so two-dimensional they could be on the set of Eastenders. Inevitably, that's absolute rubbish. Tonight is not an excercise in smarmy self-indulgence, but a celebration of the purest of pop ideals. If you can't see the wide-eyed love that goes into producing the lush 'Avenue' or the sprightly 'Split Screen' then truly you have a black box recorder where your heart should be. Certainly this is manufactured music and St Etiennes songs are so steeped in musical history that there are occasions - like the join-the-dots Abba-isms of 'I Was Born On Christmas Day' - when they can seem to be trying too hard. Even then, though, their masterful command of melody just about sees them through. Indeed, as they reach critical mass shortly after Sarah Cracknell starts dancing in time, you can forgive all their transgressions. 'Sylvie' and the stunning 'He's on the Phone' are a stellar amalgamation of handbag house and Bacharachian pop aesthetics. They play the Teutonic 'Like a Motorway' and saunter off. Tonight, they have proved again that they are not tired cynics, but consummate showmen. They go marching on. Salute them as they pass.


---



Sarah's Santa's Little Helper Cocktail Recipe!
(Taken from Melody Maker, 26/12/98)



Ingredients: Champagne, Creme de Cassis, Bacardi, Bitter Lemon and half a squeezed lemon.

Named after the Simpson's hound, no doubt, but this is no dog's breakfast. We take one swig and we've found our brand. Ooh, that's lurvely...
(Judges Comments) "Wine gums!! Yes!! I'm addicted to that already. That tastes so good."
"Yess!! Wine Gums!! That's it!! Not only does it taste gorgeous, but you can feel it working alocoholically as well. Wonderful."
"This is the first drink I've been given this evening that I'm actually going to finish. It's got clouds in it. Little fluffy clouds. Like growing up in Arizona...." "That could never be a drying out drink. It's just too good. I think the contest is over. mmm, give me more now."
Like Torville and Dean spinning their way into the nation's heart, Santa's Little Helper gets perfect marks from all out judges, even the Germans. A perfect 10.


---



Did Saint Etienne invent Britpop? One band member wants none of it, says ANDREW PROBYN

(The following courtesy of Stuart Tylor, of Avenue)



LEGEND has it Saint Etienne invented Britpop - albeit inadvertently. The English group's glamorous blonde diva, Sarah Cracknell, is uncomfortable at the oft-repeated statement. To her it is an accusation. "I'm glad you said inadvertently, because no one would have wanted to have invented it on purpose," Cracknell says from her London home. "It makes me feel vaguely responsible and guilty, because Britpop's such a horrible term and such a wide genre of s.... music that I don't want to be part of it. "The only thing we did on that level is we started to get played on mainstream radio, like Radio One, before anyone else because we were a bit cross-over sounding in that we were alternative, yet poppy." Formed in 1990 by childhood friends Pete Wiggs and Bob Stanley, and named for the hippest French soccer team, Saint Etienne was part of the English-driven backlash against grunge. Neither Wiggs nor Stanley could play an instrument, but both were keen fans of indie pop in which guitars were sidelined for samplers and synthesisers. Stanley had fine-tuned his pop sensibilities as a music reporter for NME, Melody Maker and The Guardian and, along with Wiggs, had dreamed of being North London's answer to Burt Bacharach. Their first two singles were clever reworkings of lost classics - Gene Pitney's Only Love Can Break A Heart and the Field Mice's Kiss and Make Up. Wiggs and Stanley originally intended Saint Etienne to be a fluid outfit that would employ a variety of singers, much in the tradition of Massive Attack. But when Cracknell joined for the third single, the self-penned Nothing Can Stop Us (1991), they found a soul mate. She was the living embodiment to their cool, ambient and stylish groove. "Maybe they realised the logistics of using different vocalists was a nightmare, but we were so like-minded in reference points we clicked somehow," Cracknell says modestly. Eight years on, Saint Etienne has produced four albums, two compilations and a score of singles. The Wiggs and Stanley team has also produced for Shara Nelson, Van Dyke Parks, Edwyn Collins, the Boo Radleys, PJ Proby, Shampoo and Kylie Minogue, who faithfully covered Nothing Can Stop Us in 1994. "Over the years Saint Etienne has done more collaborating than the Vichy regime," the band's biography reads. It joined French pop star Etienne Daho for a mini-EP and conscripted the Charlatans' Tim Burgess for its single I was Born on Christmas Day. During the band's first full tour of Britain in 1994, Saint Etienne was supported by a fledgling band called Oasis. Noel Gallagher sent them a demo tape that included Live Forever and Oasis was signed up for the tour on the spot. "I remember seeing them and thinking something was going to happen for them," Cracknell says. "You know when a band has just something about them, charisma. Liam would look like such a pop star - he had presence on the stage and the songs were good. I did not realise just how ridiculous it would get for them." Saint Etienne's star has never shone as bright as its former support group, but its body of work is consistently enjoyable and constantly evolving - from retro pop and ambient new wave to more progressive work such as its 1994 album Tiger Bay. Its latest album, Good Humor, reached No.13 in the British charts while its two singles, Sylvie and The Bad Photographer, reached 12 and 25. The band's biggest hit has been 1995's He's on the Phone. Mario's Cafe, from its second album, was used in a British television ad for shampoo. Such are the strange fortunes of pop. The band's lack of British chart-busting is reflected in Australia, where it has had little commercial success. The band's three-date Australian tour begins in Sydney, and Cracknell says the tour is more of a fact-finding mission ahead of a more comprehensive tour, maybe sometime next year. "We would love to have come before, but nobody asked us," she says. Stanley will not be touring ("he doesn't enjoy gigs"), but Cracknell and Wiggs will be backed by a six-piece band. Saint Etienne will perform at the Hi Fi Bar on Sunday December 6, and Monday, December 7.


(C) 1998 Herald and Weekly Times Limited. SUNDAY HERALD SUN 29/11/1998 P81



---



The following courtesy of Stuart Tylor, Avenue



UK trio St Etienne are on a mission. They'd like to teach the world to sing - their songs preferably, but they'll settle for simply sharing their love of pop with the rest of humanity. Pete Wiggs, Bob Stanley and Sarah Cracknell make up one of the few remaining proudly pop bands. They've weathered the storm of grunge and rock and still manage to keep their underground cool while also cracking the charts. "Pop music is quite healthy at the moment," says Stanley. "There's lots of personalities and teen stars in the charts and [teen magazine] Smash Hits looks really good. Which is a relief because otherwise British music is pretty grim right now. There's not much to get excited about." The new St Etienne album, Good Humor, is their first release in three years. Stanley realises that's two lifetimes in terms of pop music, the lay-off leading to rumours the band had split. Instead, they started their own record label (EMIdisc), while Cracknell recorded a solo album which kept being delayed, leading to Good Humor sitting on the shelves for a year before its eventual release. To kill time, Stanley and Wiggs scored the upcoming Brooke Shields/Parker Posey movie The Misadventures Of Margaret, even coaxing teen actress Posey to sing on one track. A greatest hits compilation, Too Young To Die, with their classic pop moments such as the keyboard-drenched Neil Young cover Only Love Can Break Your Heart, the dizzy He's On The Phone and Like A Motorway let fans keep the faith. "We used to have a master plan but it went off the rails when we didn't release an album for three years," jokes Stanley. "At the moment, we're just doing albums until we run out of ideas. It's a fickle business, we don't want to outstay our welcome. I hate it when groups do that. If we feel we're getting mediocre we'll stop." There's no chance of that happening at the moment. The band are leaving the jazz flavoured deviation of Good Humor behind for a return to their mixture of dance beats, pure pop and melancholy for their upcoming new album. "At the moment, all our new songs are sounding really maudlin and slow. It might end up being a really depressing album if we're not careful." The trick to St Etienne's style of pop, Stanley says, is to be obvious but not throwaway. "We've stepped over that line a few times, been too cheesy, that's probably why we're taking the melancholy option on the new songs. It adds a certain depth." Their sound certainly has many fans. Kylie Minogue worked with the band a few years back, and Stanley admits the trio penned a song for the latest pop wunderkids Steps, "but they'd already finished their album by the time we sent it". But the Steps connection goes further. "Mitch, our backing singer, was in the original line-up for Steps," gloats Stanley. "They replaced her with a lookalike, the one with the curly blonde hair." However, St Etienne's major pop achievement may arise shortly. "We're going to have a go at writing a Eurovision Song Contest entry for next year," says Stanley. "We won't sing it, we'll find someone else to do that, but that one definitely won't be melancholy." * st etienne play the metro, saturday night.


(c) Nationwide News Proprietary Ltd, 1998.



---



Courtesy of Richard John, Editor of Jam! Showbiz, Which is here!


The Sarah Cracknell interview By RICHARD JOHN -- JAM! Showbiz

On the eve of Saint Etienne's first Canadian tour dates in five years, Sarah Cracknell spoke and laughed with JAM! from her home in rainsoaked London.
Over 45 minutes, the light discussion ranged from new material and bad pornography to computer illiteracy and a bottle of wine, courtesy of Canadian author Douglas Coupland.

Jam!: I've been a fan since the days of 'Fox Base Alpha' (1991).

Sarah: Oh right. God, that was a long time ago.

J: I still listen to it.

S: Good. I don't. It's embarrasing when people ask me questions about 'Fox Base Alpha' or 'So Tough' (1993).

J: That's something I've noticed. With movie stars or musicians, once you've completed a project, you move on. Fans, tend to dwell.

S: Yeah, and they ask you really complicated questions, like "where were you when you wrote such and such?" or "why did you choose this key?" and I can't remember!

J: I'll ask you about newer material then.

S: OK (laughs).

J: The 'Places To Visit' EP, for example.

S: Yep.

J: Sean O'Hagan produced '52 Pilot' on the EP. How was it working with him?

S: Oh, he's great! He's really good to work with. We might be working with him again a bit more in the future. He's a lovely guy. He's very talented, obviously. Very melodic.
(after a pause) I hope people treat 'Places To Visit' as an EP and not a single, you know what I mean? Without a single on it, it's not really single-ly.

J: The way the record company is promoting it, it's either an EP or a 7" single with '52 Pilot' as the lead track.

S: It's more a collection of work. You know what I mean? Without sounding too pretentious (laugh). A between album offering.

J: What is the EP about? Is it a title to reflect the tracks on the disc?

S: Yeah. You know, 'Places To Visit' would probably be a good title for most of our albums. Although the reviews always say 'quintessentially British', there are always references to other places in other countries. They're all imaginary really, because most of the places we write about we've never been to. So yeah, it's more of a travelogue.
I think we felt that out of all our albums, 'So Tough' was the most travelogue.

J: There were a lot of references, especially in the song 'Mario's Cafe' (which as was used in a Canadian advert for Laboratorie Garnier).

S: Yeah.

J: Why was 'Places To Visit' only a North American release?

S: I suppose because we're between deals here in the UK. We've left Creation and we're about to sign to another label, but I don't want to put the kiss of death on it by naming them.

J: Can I ask you this: is it a major or an indie?

S: It's an independent label. The EP was just to fill in the gaps really. We're quite prolific, I suppose, and it's a shame not to put things out when you want to. And also, being on SubPop, it's the first time we've been in a position to do stuff in America, really.
When we were on Warner Bros. before, they never seemed to want us to come out and tour or anything like that.
We'd also go 'can we come and tour?' and they go 'no, no, there's no call for it, no one'll come!' We'd reply, 'Oh, okay, then.'

J: I read that Warner didn't actually know how to market you and that was one of the big problems.

S: Yeah. I know that sounds like a terrible criticism - probably the marketing department of Warner Bros.'ll be up in arms about it.
I don't think they quite understood quite what we were about. They were very nice to us and they were very supportive and I almost felt like we were their pet band. You know, 'Oh aren't Saint Etienne cute and quintessentially British (again)'.
Everyone at the label seemed to be a quiet, closet fan, you know. They all seemed to be quite into it. I suppose it's quite a hard thing.
Maybe also the climate changed as to what you can market, you know, what you can put out in the States and before I don't think they quite knew where to put us, whether we were pop or indie or dance or what. I can understand why, because I think we are a bit of a confusing band at times. Maybe now there's just a more of a market for it.

J: You came to rise through the early 90s when the American musical landscape was changing. It was the era of grunge and everyone in the US rediscovered grungy guitar rock'n'roll. These days, with the resurgence of pop, there's a little more melody and things like that creeping back into the charts.

S: I think of bands like the Cardigans and stuff like that.

J: In my research...

S: Sounds like homework.

J: ... I know a lot about your music, but not a lot about you personally. I did find a website with four or five interviews with you, but none with fellow band members Pete Wiggs or Bob Stanley.

S: That's weird. I wonder what that was off.

J: It was the 'Sassy Sarah Cracknell Site'.

S: Oh that one, yeah. (Lisa: Oh WOW! Sarah's seen this site! Hallelujah!)
The funniest one I ever found was when we were in a hotel in New York. They had one of those iMacs at the reception desk. One of our keyboard players was fiddling around with it, because he's quite computery and we found this website 'See Sarah Cracknell Naked'. It's the funniest thing I've ever seen, my head stuck on someone else's body.

J: Some of those fake jobs are really bad. With some of them, you'd have to be a mutant for the photo to be real.

S: Yeah, the head's sort of twisted in the wrong direction and completely different skin tones to the rest of the body. Very odd and just a bit freaky actually. I was slightly disturbed.
Hopefully, they did it with some humour. Please God, they did it with some humour (laugh).
I have yet to have a computer, actually. I haven't got one. I am computer illiterate, but I'm about to get one.
Once we've finished this tour, my new thing is I'm getting myself one of those new iMacs, one of those clever ones that I can use music programs on and get myself sorted.
I thought that when I was at school - I was at private school and all the comprehensive schools had computers studies and mine was too busy teaching Latin and things like that, really useful stuff.

J: You never know when knowledge of a dead language will come in handy.

S: Exactly. So I kept thinking 'Oh well, I won't need to, I won't need to, I won't need to', and then suddenly it dawned on me that I'm so left behind. It's like 'you really need to, Sarah'.. oh God.
It's terrifying. I need to catch up big time. It's rather Dickensian.

J: The original track listing for 'Places To Visit' was supposed to be: a Matthew Sweet track - "as heard on the recent tour" ...

S: That ended up on something else. I'm sure it did. Maybe it was a b-side. Maybe I'm going mad.

J: ... 'My Boyfriend' - unreleased version and Add N To X remix - and 'Lose That Girl' (Trouser Enthusiast Mix). Any plan to release these tracks in the future, now their existence is known?

S: Um. I think 'Lose That Girl' may have come out in Australia. It was intended to, whether it did or not. I was looking forward to it coming out, really.
Never mind, Creation wouldn't let us do it. Bastards.

J: Extrapolating on your problems with Creation, and the regionality of your releases, have you ever thought about your own label? Saint Etienne Records, for instance?

S: It did occur to us, actually. We investigated it quite thoroughly.

J: Bob and Pete ran Emidisc for a while (The label which was home to Kenickie has since been taken over by the parent company EMI).

S: Yeah. We did think about it quite seriously.
Basically, it would have been a heck of a lot of work for - for instance - our manager who has enough on his plate as it is. He doesn't just manage us, he runs Heavenly, and Capersville the press agency, plus the club, plus everything. So he's kind of busy and it would have meant an enormous amount of work and we would have had to employ people to run it.

J: A whole level of bureaucracy.

S: Yeah, and we got offered a deal by this other label.
The new label have been really, really brilliant and they're a very proper label. They still maintain their kind of indie ethic and they're very artist oriented and they're really cool. So we couldn't really refuse because they were being so cool.

J: How will the new deal impact on your US deal with SubPop?

S: The other good thing about the new label is they're saying 'if there's a label in a certain country that you're happy with then we'll try and work something with them'. That's good, because we're happy with SubPop, and in Japan we're happy with Toshiba-EMI.

J: And L'Appereil Photo?

S: Yeah, that's another label out there. The guy who was running it has left now, I think. He may be at a different label, I'm not sure. He's a Japanese guy we called Stupid Jimmy, which he likes.

J: Does he understand what it means?

S: Yeah, he actually calls himself Stupid Jimmy. He's very funny. We did some music for the film 'Misadventures Of Margaret' and he might be putting the soundtrack album out in Japan.

J: Japan only?

S: Yeah, sorry.

J: No worry, just another expensive import purchase.

S: Oh God yeah, sorry (sheepish laugh). It's not definite yet, it's just in the pipeline.

J: Why is there so much rare material floating around? There's the fan club EPs, 'I Love to Paint' - copies of which are selling for obscene amounts of money on the internet...

S: Are they? They're really hard to find, actually.

J: They're copies. Someone has taken the disc and make a burn of it and they're selling that.

S: Bloody hell! We could do that! We could just do a download type of thing.

J: ... the other discs were the US only 'Fairfax High', 'Places To Visit', 'Lover Play The Bass', 'Continental' and 'Fairy Tales of Saint Etienne'.

S: Hmmm, I know. Sorry. We're bastards aren't we for doing this.

J: I put it down to record label politics and regional deals.

S: Yeah, it's just there's certain places where we can do things and there's certain places where they'd rather we didn't. Certain places where they'll let us release stuff.

J: According to fan club magazine Clenbuterol, you're favourite track on 'Good Humor' was Split Screen. One year after the album's release, is that still the case?

S: Uh, no. I think now I really like 'Erica America'. The reason I think I like that now is from touring and singing it live.
I liked it a lot in the studio, but I had trouble singing it. It was the hardest one for me to sing for some reason. It's probably quite high in some places, and I've got a deep voice. Now doing it live, I've sort of mastered it and now I really like it. It feels really sort of uplifting live. It makes me put my hands up in the air.

J: Being such a British band, why did you choose the Cardigans studio - Tambourine Studios in Malmo, Sweden - to record 'Good Humor'?

S: Purely because of the studio and the producer [Tore Johansson]. We'd heard records by Eggstone and Lady Lynette and a bunch of Japanese stuff that was recorded there as well.
With The Cardigans it's a lot different, they do a lot more of it themselves.
Tore is very adventurous with the sounds he gets and the way he records things; the way he records drums and stuff like that. We just wanted to get that sound.
It's also good to be away from home when recording because you get away from all the distractions. You get into that sort of gang mentality, sharing a flat and hanging out together, it's good.

J: Did you go into the studio intentionally looking to record an organic band album rather than an electronic album?

S: Yeah, very much so.

J: So with 'Places To Visit', it's more of a hybrid of that sound and electronic elements?

S: With 'Good Humor', I think we dared ourselves to do it. We'd really explored computer generated music and sampling and stuff like that to quite a degree, so we sort of dared ourselves to do it really.
It was just quite exciting for us to do that. Whereas now, I think, we've done that and we want to sort of combine the two a bit more.

J: Where will the next album be recorded and when can we expect to hear it?

S: We've already started the next album. We've been in Berlin for 3.5 weeks doing the core of it there, working with a German group called To Rococo Rot (the trio of Robert and Ronald Lippok, and Stefan Schneider Dusseldorf). Now we're back here in London and we're going to add strings and guitars... the organicky stuff.
We might work with Sean O'Hagan to do that. Then we're going to mix it here. It probably won't be finished till the Autumn, because we're on tour and stuff. I assume it'll be out around February of next year.

J: Just in time for the new millennium.

S: Which everyone seems to be obsessed with and I don't actually give a shit about. I'm wondering if I'll change my mind closer to the time.
Bob and Pete are really into it, they're like 'wow, the millennium'. It's only me that's a bit 'so?' Maybe nearer the time I'll get more into the spirit of it.

J: Are Saint Etienne going to release their millennium single?

S: I don't think so, no.
How scary, having to enter into that kind of competition. I guess Pulp's 'Disco 2000' will be played a lot.

J: With 'Good Humor', you used the American spelling of Humor, was that intentional?

S: The ice cream company is called 'Good Humor', isn't it?
It's actually some obscure Brian Wilson/Beach Boys reference. I think he was wearing a good humor ice cream man's hat on some record which I can't bloody remember. It's on the inner sleeve of some record.
It's one of those Bob Stanley references that I always get asked and I can never remember.

JAM: Celebrated Canadian author Douglas Coupland (Microserfs, Generation X) wrote the liner notes to 'Good Humor'. How did that come about?

SARAH: I think it was Bob who read something where Douglas Coupland was being interviewed and he mentioned the reference to Saint Etienne in a very complementary way and then we got in touch with him and he said yeah, he was a fan of ours and liked our music. We asked him to do the liner notes and he said yeah. He wouldn't even take a payment, bless him.
We offered him some money... quite a lot of money actually.. and he said 'no, no, no, just spend it on a good bottle of wine' and we thought 'wow, that's some fucking bottle'.
I've never drunk a bottle of wine that's cost that much (laughs). I was really happy with him, I thought that was brilliant.

J: The rare, out-of-print fan club only album 'I Like To Paint' has a photo credit attributed to Pulp lead singer Jarvis Cocker. Are Pulp and Saint Etienne close?

S: We were. We went on tour with them, they supported us on tour once around Britain as did Oasis. Anyone who supports us is guaranteed mega-stardom afterwards (laugh).

J: Noel Gallagher (from Oasis) sent you a demo tape didn't he?

S: Yeah, well we heard it through... I can't remember. It may have been through [Creation Records boss] Alan McGee, actually. I'm not sure. Anyway, it had 'Live Forever' on it, things like that.
But yeah, we were very close to Pulp for a while.
I've lost touch with them a bit which is a shame. I knew Russell very well and of course he left. I also know Nick, the drummer, quite well and Candida. But I haven't seen them for a while, but of course they're probably incredibly busy.
They were lovely on tour.

J: You released your lone solo album 'Lipslide' in 1996. Any more plans for solo material?

S: I'd like to do something, but only if there was a gap in the Saint Etienne schedule. I prefer being in a band, it's more fun. It's lonely doing it on your own.

J: Did you find the solo album more difficult, it being only you?

S: I had a lot of trouble with the label I was on [Gut Records]. They weren't very nice to me. It wasn't a great relationship, between me and the label.
I think they were just trying to turn me into something and the thing was I don't think they ever listened to a Saint Etienne album, do you know what I mean? I didn't realize it at the time. It's one of the first thing you'd do, I would think.
So, it was a real struggle and I was very unhappy. I was very happy when the album was finished and I'm proud of it, but they then pretty much didn't put it out. They put it out just about. They didn't promote it at all or do anything. That's why it's so hard to find, I think.

J: I found it in an expensive import shop.

S: Oh God. That must have cost you a fortune (nervous laugh).

J: You've worked with some interesting collaborators in the past, Tim Burgess (of the Charlatans), Tin Tin Duffy (of the Lilac Time), Etienne Daho and David Holmes. Is there anyone left on your collaboration wish list?

S: I'd love to do something with - this is seperate from Saint Etienne because they wouldn't agree with me - but I love J. Mascis and Dinosaur Jr. I think he's a brilliant songwriter and I'd love to do a duet where he does falsetto and I do sort of the lower part. I'd love to do that. I just love his voice and I think he writes brilliant pop songs.

J: Would it be more Dinosaur Jr. sounding or more Saint Etienne sounding?

S: I think it would be kind of a halfway house thing, where it could be a bit Dinosaur Jr. but then a bit stringy and a bit Beach Boysie on top. I think that would be really good.

J: How would you describe the sound of Saint Etienne?

S: God, I don't know. You've asked me an impossible question. It is impossible, but I think that's purely because we are also eclectic in what we listen to - as far reaching as the 50s, 60s and the 70s, blah blah blah.
I think we're one of those bands that manages to get away with working on different genres of music and different eras of music and putting it all together and we get away with it. Then everytime someone tries to pigeonhole us, as you know a retro band we go, ha ha, and do something that's not retro.
As soon as they say, 'oh you're Brit Pop', we go do something else, something like He's On The Phone. Then they go, 'Oh you're a Euroband', and then we go 'ha ha' and do something like '52 Pilot' and go 'now keep guessing!' It's just because we listen to so many different things.

J: It must be nice to more or less reinvent yourselves when you want to.

S: I think whatever we do, we do still sound like Saint Etienne, there's a basic thread there.

J: It's a rather enviable position.

S: I know. What was that quote from Spinal Tap? 'I envy us.' Wasn't that when they were about to go into their jazz phase? That musical 'Salty Jack' about Jack The Ripper.

J: Fess up, was 'Born on Christmas Day' written for Bob?

S: Yeah. Poor sod.
Could you imagine growing up being born on Christmas Day? What a nightmare. I'm guilty as well.
At Christmas we all go off to our families, but we see each other leading up to Christmas. I've bought him double presents before - 'this is your Christmas AND birthday present rolled into one.' I think that's terrible, isn't it.
I actually only gave him his birthday present about two weeks ago.

J: Why did you leave the between song snippets off 'Good Humor'? Who chooses the snippets?

S: We all do really. It's actually a long story - the snippets. For the first album ['Fox Base Alpha'] we got away with murder, because no one had cottoned on.
It was only because Warner got paranoid, because it was a much more suable practice in America than in Britain.
So with 'So Tough' we had to be careful. That's why there's a lot of British film references in there - the American lot wouldn't let us have them.
And then with 'Good Humor,' it just didn't warrant it somehow. There was more of a flow soundwise. The instruments we used flowed from one song to another, whereas on the previous albums it worked better with the snippets, some tracks being more instrumental and orchestral.
We may get back to snippet land, we may use more snippets, we'll see.

J: You've had a lot more co-writing credits on Saint Etienne material lately. How did that come about?

S: I suppose it's just a natural progression. It happened very naturally.

When I joined Saint Etienne, they were already an existing band. 'Fox Base Alpha' was pretty much all written before I joined. It just takes time to get to the position of being able to feel that comfortable and free to write with each other.
A lot of the songs now are actually written by all three of us, including the lyrics. It's just a natural thing.

J: With previous Saint Etienne tunes that you co-wrote with outside writers like 'Hug My Soul', how did you present them to Bob and Pete?

S: I said to them, 'I've got this song, you'll probably hate it.' I actually said that (laugh).

J: You wrote 'Marble Lions' on 'Tiger Bay' as well.

S: Yeah, I wrote that when I was about 16.

J: What will the tour setlist be like - a hits thing or more new material?

S: Do you know, I was only just working on that this morning. I'm in charge of setlists. One of my many roles. We might do something off the EP. Apart from that, it's a real combination of stuff from 'Good Humor' and stuff from the past. It's a real mixture of stuff.

J: What's your favourite song to do live?

S: Um. What do I really enjoy doing live? 'Erica America,' again, I think that's one. Oh, actually, 'Spring.' I love doing 'Spring,' so we may be doing that on tour - because I like it.

J: Why doesn't Bob tour with the band?

S: He doesn't really enjoy touring. The whole thing that goes with it, he doesn't really enjoy it.
When you do a gig you can go on sometimes feeling really tired and what have you, but by the time you come off, you've got adrenalin pumping round your body and you just come off feeling elated. He, however, never did. He used to come off feeling exactly the same way as he did before he went on.
Therefore it didn't hold the same sort of magic for him as it does for me and Pete. We didn't want to make him do it or try to pursuade him to do it if he didn't really enjoy it. It's not that he hated it, he just didn't really get anything out of it.
It's quite hard work slogging around, sleeping on a bus, you know and all that. If you're really not getting anything out of the gigs then there's not a lot of point.

J: Does he travel with you guys?

S: No. He comes to certain gigs and he sometimes DJs.
He's not coming to America this time. He's actually going to be getting on with some of the work on the album. It's quite good because he gets on with it while we're away. We've got a lot to do for the album.
He's also a journalist, so he writes as well. He writes quite a lot for 'The Face' and 'The Guardian' and things like that.

J: What do you think of bands that Saint Etienne paved the way for - Dubstar, Mono, Peach, One Dove, Cardigans?

S: I love One Dove and I like The Cardigans. I think the Cardigans are too different to us to be compared really in any way.
It's hard because it would be very arrogant to think that they've copied or exist because of us. Maybe they've just got the same influences as us. I don't really know Peach. I've seen pictures of them [two guys and a blonde female, ala Saint Etienne], and I was like 'hello?'
I've met Dubstar and they're really sweet. They're actually quite cool and they've actually said that we are an influence.

J: How much interaction do you get with fans at the shows or out on the town? Do you get recognized shopping or in restaurants?

S: Yeah, we do. It's difficult after a gig.
When we were not quite so well known, I used to go out into the audience and hang out and dance, things like that. It's a bit much now, because you get inundated with people who just want to talk to you. When there's a heck of a lot of people wanting to talk to you, it's a bit frightening.
When we meet people wandering around in different cities when we're about to do a gig that day, they're always very sweet. They're just really nice and just interested to talk to you.

J: I had read that guys are intimidated by you and instead of saying something nice, they'd be mean.

S: That hasn't happened for a long time. They used to, though.
I can see where it stemmed from. It's like pulling pig tails at school. A little boy likes a little girl at school and he's a bit nasty to her because he doesn't know how to be nice, you know. But yeah, I haven't had that for quite a while.

J: What do think of bands influencing their fans - music, fashion, etc.?

S: As far as film references and things or references to other bands or places, I'm really glad people go and check them out because the whole reason we're talking about them, or singing about them is because we think they're great and other people should enjoy them as much as we do.


---
More coming soon!!